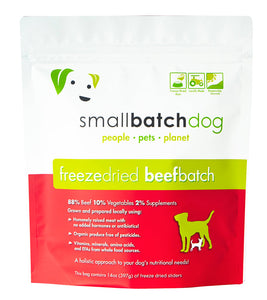 Smallbatch Beefbatch Freeze Dried Dog Food
freshingredients
88% humanely raised grass fed beef, 10% organic produce, 2% natural supplements
beef hearts, beef livers, beef kidneys, beef bones, organic yams, organic carrots, organic squash, organic broccoli, salmon oil, organic apple cider vinegar, organic kale, organic collards, mixed tocopherols, organic kelp*, organic parsley, organic bee pollen, organic wheat grass, organic bilberry, organic garlic, organic rosemary, organic basil, vitamin e supplement
*OUR ORGANIC KELP IS SOURCED FROM THE PRISTINE WATERS OF ICELAND
GUARANTEED ANALYSIS AS FED:
Moisture (max):
4.7%
Crude Protein (min):
52%
Crude Fat (min):
33.8%
Crude Fiber (max):
1.8%
Calcium:
1.5%
Phosphorus:
1.3%
ME = 46 kcal/slider
COMPLETE AND BALANCED- BEEFBATCH DOG IS FORMULATED TO MEET THE NUTRITIONAL LEVELS ESTABLISHED BY THE AAFCO DOG FOOD NUTRIENT PROFILES FOR ALL LIFE STAGES
FEEDING GUIDELINES
To rehydrate, simply mix ½ cup of warm water for every 4 sliders.  Crush sliders and allow mixture to rehydrate for a few minutes then serve.
5 lbs:
  2 Sliders per day
10 lbs:
  4 Sliders per day
15 lbs:
  6 Sliders  per day
20 lbs:
  8 Sliders  per day
40 lbs:
  16 Sliders per day
60 lbs:
  24 Sliders per day
80 lbs:
  32 Sliders per day
100 lbs:
  40 Sliders per day
For nursing or pregnant dogs and puppies, quantities per day can be doubled.  Please note that you should always consult your veterinarian especially when it comes to mommas-to-be or nursing dogs. These are only guidelines and may need to be adjusted depending on your individual dog's needs.