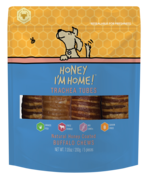 Honey I'm Home! Trachea Tubes Natural Honey Coated Buffalo Chews
These highly digestible, natural buffalo Trachea Tube Chews are both enticing and delicious. The crunchy texture and grooves help scrape away tartar and plaque to help clean your dog's teeth!
We only use simple, easy to read ingredients like Buffalo and Honey. You can be confident that your dog is getting the nutrients it needs from the best dog treat possible.