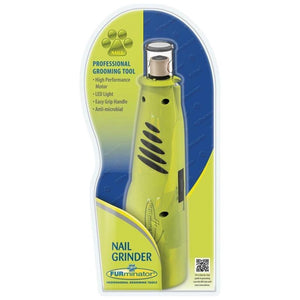 FURMINATOR NAIL GRINDER FOR DOGS
2-speed cordless grinder includes 2 replaceable grinding bands. Operates for 100+ hours on 4 aa-alkaline batteries included.
Automatic led light ensures safety and maximizes control.
Tool design ensures nail trimming is safe, efficient and painless. Ideal for all dog breeds.
Anti-microbial plastic helps keep germs and bacteria at a minimum.
Regular nail trimming, recommended every 3-4 weeks, promotes comfort and health.
Eliminates sore paws, legs and hips.