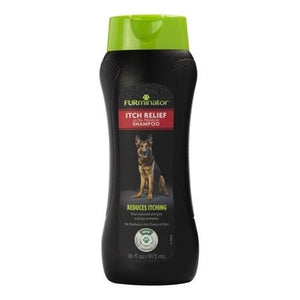 Furminator Itch Relief Ultra Premium Shampoo
Reduces itching from seasonal allergies and skin irritation.
No Parabens
No Chemical Dyes
Enriched with: Calendula Extract, Chamomile and Almond Oil
Cruelty Free
MONTHLY
Regular shampooing and conditioning promotes a healthy skin and coat while reducing loose hair from shedding. As touch-ups in between baths, or on animals that do not tolerate bathing, FURminator® waterless sprays, foaming shampoos and wipes can be used to quickly and easily neutralize odor. Additional bathing brush products are available to boost the efficiency of shampoos and conditioners.
Directions for use: 
Use monthly as part of the FURminator® at-home professional grooming regimen.

Shake well before use. Wet coat, apply and lather shampoo over entire body, allowing 5 toio minutes of contact. Rinse thoroughly. Repeat process as needed. For best results, follow with the FURminator® deShedding Ultra Premium Conditioner.

KEEP OUT OF REACH OF CHILDREN

For topical use on dogs over 6 weeks old. Avoid contact with eyes. If irritation develops discontinue use and consult your veterinarian.
Ingredients: 
Water, Mild Surfactants, Almond Oil, Calendula and Chamomile Extracts, Omega 3 & 6 Fatty Acids from Cranberry, Sunflower and Safflower Seed Oils, Hydrolyzed Wheat and Oat Proteins, Mallow Flower, Kava, Aloe Vera and Papaya Leaf Extracts, Vitamin E, Preservative and Salt