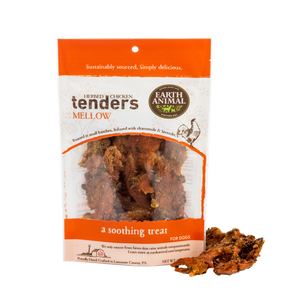 Earth Animal Mellow Herbed Chicken Tenders For Dogs
Sustainably Sourced. Simply Delicious
MELLOW: for the anxious, nervous, weary, or stressed – comforting relief has never been this delicious.
Both chamomile and lavender are tasty, aromatic herbs that are known to encourage a calming sensation in humans and dogs alike. That's why we've added them to our PERFECTLY PLAIN Tenders. We also added l-tryptophan for a truly unique and effective recipe. A tasty treat and a more relaxed, stress-free dog?  Sign me up!
What are the PERFECTLY PLAIN Tenders?  Cage-free American chicken, slow roasted in small batches to the perfect flavor, aroma and tenderness. 
Formulated by Dr. Bob Goldstein, we offer 5 varieties of savory chicken Tenders: PERFECTLY PLAIN for animals with sensitive stomachs, FLEX for joint support, FRESH for fresh breath, MELLOW for soothing, and SHINE for healthy skin & coat. 
Proudly hand-crafted in Lancaster County, PA.