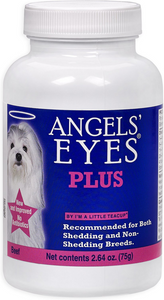 Angels' Eyes Plus Beef Flavor Antibiotic Free Supplement for Dogs
Special all natural enhanced anti-tear stain formula specifically developed for both dogs and cats for unsightly tear stains from the inside out!

DOSAGES
Pet's weight Daily dosage Per 75 g
Under 14 lbs¼ tsp 152 days, (5 months)
15-49 lbs½ tsp., 76 days (2 ½ month )
50 lbs. and up, 1 tsp., 38 days


Angels' Eyes® PLUS never adds food dyes, wheat, corn, or soy which may have negative effects on your pet.
Our bottles contain net contents 1.59 oz (45 grams), 2.64 oz (75 grams net).Recommended for both Shedding and Non-shedding Breeds. Extremely Palatable



Proudly Made in the USA .
Ingredients
A Special Enhanced Formula with:

Cranberry Powder, Marshmallow Root Powder, Olive Leaf Powder, and Eyebright Powder.

Inactive Ingredients:
100% Freeze Dried Beef Liver.