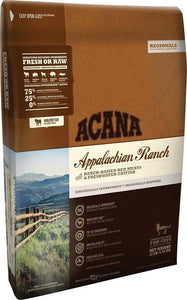 ACANA Regionals Appalachian Ranch Cat and Kitten Grain Free Dry Cat Food
ACANA's Appalachian Ranch Cat and Kitten recipe is a grain-free, protein-packed recipe loaded with over 75% of ranch-raised red meats and freshwater catfish! Honoring the Appalachian ranching heritage, this region-inspired recipes features a biologically appropriate variety of premium ingredients including Angus beef, Yorkshire pork and grass-fed Kentucky lamb, American bison and freshwater catfish. All ingredients are raised and fished on local Kentucky ranches by farmers and fishermen ACANA knows and trusts. Staying true to your cat's evolutionary diet, ACANA's Appalachian Ranch Cat and Kitten recipe features wholeprey ratios in order to mimic the diet mother nature intend so your cat can maintain optimum weight and peak health. By using the whole animal or fish, including organs and cartilage, your cat will absorb all the necessary nutrients naturally and completely. Muscle meat provides protein; liver, kidney and tripe supply vitamins and minerals; while bones and cartilage deliver calcium and phophorus. Glucosamine and chondroitin are derived naturally from high quality meat ingredients, not synthetics. Blue catfish are brought in daily from neighboring Kentucky lakes and are naturally rich in essential fatty acids like Omega-3, DHA and EPA promoting healthy skin and shiny coats. Add in the ripest fruits and vegetables that are delivered fresh everyday from neighboring farms and top it off with generous infusions of freeze-dried liver and tripe and you've got a recipe loved by even the fussiest eaters.
Why We Love It
Protein packed with over of 75% meat and fish!
Wholeprey ratios of Angus beef, Yorkshire pork and grass-fed Suffolk lamb, American bison and freshwater catfish
Generous infusions of freeze-dried liver and tripe for palatability
About ACANA
Your cat may not roam the wilderness like their ancestors did, but that doesn't mean you shouldn't feed them like they don't. ACANA makes only foods that are rich in meat and protein variety, with wholeprey meat ratios and limited carbohydrates, replacing fast carbs with low glycemic, healthy fruits and vegetables. With a state of art brand new kitchen in Kentucky, all ACANA foods are sourced and made right here in the USA by trusted farmers. With human grade ingredients that typically arrive at the kitchens within 48 hours of harvesting, fresh is the entire basis of ACANA's brand. Ingredients like heritage red meats from the Appalachian ranching country, free-run poultry and eggs, wild caught fish from New England, whole fruits and vegetables like Bartlett pears and butternut squash, and locally grown botanicals from Kentucky, ACANA believes the healthiest foods are made here at home in Kentucky, never outsourced. ACANA nourishes your cat's instinct for real, fresh meats and high quality grain-free carbohydrates. It's everything Mother Nature intended, and nothing she did not.
Ingredients
Deboned beef, deboned pork, deboned lamb, beef meal, lamb meal, pork meal, whole green peas, red lentils, pinto beans, beef liver, beef fat, catfish meal, chickpeas, green lentils, whole yellow peas, deboned bison, whole catfish, herring oil, natural pork flavor, sun-cured alfalfa, beef tripe, lamb tripe, lamb liver, pork liver, beef kidney, pork kidney, pork cartilage, dried kelp, whole pumpkin, whole butternut squash, kale, spinach, mustard greens, collard greens, turnip greens, carrots, apples, pears, freeze-dried beef liver, freeze-dried lamb liver, freeze-dried pork liver, pumpkin seeds, sunflower seeds, choline chloride, zinc proteinate, copper proteinate, mixed tocopherols (preservative), chicory root, turmeric, sarsaparilla root, althea root, rosehips, juniper berries, dried lactobacillus acidophilus fermentation product, dried bifidobacterium animalis fermentation product, dried lactobacillus casei fermentation product.
Guaranteed Analysis
| Nutrient | Guaranteed Units |
| --- | --- |
| Crude Protein | 35% min |
| Crude Fat | 20% min |
| Crude Fiber | 4% max |
| Moisture | 10% max |
| Calcium | 1.8% min |
| Phosphorus | 1.3% min |
| Omega-6 Fatty Acids | 1.8% min |
| Omega-3 Fatty Acids | 0.6% min |
| DHA | 0.1% min |
| EPA | 0.1% min |